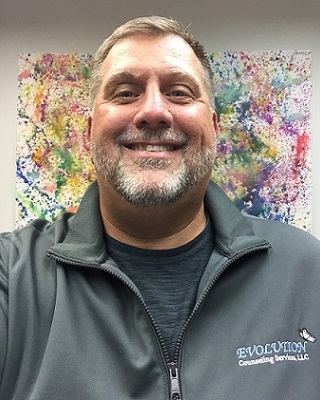 Jeff Colbert, LCSW, President
Jeff, LCSW, Co-Owner & Clinical Director of Evolution Counseling Services, LLC has been a resident of Blair County all his life. Born and raised in Martinsburg, PA, he is a resident of Williamsburg, PA with his wife and twin daughters. He is a licensed clinical social worker in the state of Pennsylvania working with children and families since his graduation from Juniata College in 1998 with a BA in Communication/Criminal Justice. Jeff earned his Master of Social Work (MSW) in May 2013 from Shippensburg University. Jeff works as Evolution Counseling Service's Clinical Director. He is also a trained outpatient therapist. He has experience working and supervising within the FFT and Delinquency Prevention programs. Jeff leads the supervision of bachelors and masters level interns at Evolution. Evolution ALLIES is a passion of Jeff's in implementing and providing support for LGBTQI populations (kids and families). Jeff also provides Trauma-Focused Cognitive Behavioral Therapy (TF-CBT) at Evolution in an outpatient setting. Jeff has a wealth of professional and volunteer experience in various related child serving and social service agencies and organizations.
In the community, Jeff is an adjunct professor at Saint Francis University in Loretto, PA as well as an assistant varsity football coach for the Altoona Mountain Lions. He has coached football since 1998. He also is the president and a coach in the Williamsburg Youth Baseball and Softball League helping lead the league for the betterment of the young athletes. He serves on the social work education advisory boards for both Saint Francis University and Juniata College. Jeff brings a diverse commitment to success from his numerous clinical and supervisory experiences.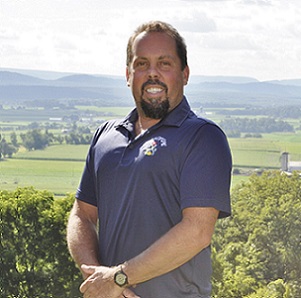 Craig Clark, LSFW, Vice President
Craig currently resides on Beldin Hollow Farm in beautiful Cambria County. Craig met his wife of 25 years and started his family of three beautiful daughters during his 50 years of being a Blair County resident. Craig had a vision to collaborate with some of the best dreamers in the counseling industry to develop some one of a kind programming to help Blair County Youth and Families. The formula was simple, work with some of the most passionate caring people to develop strengths based programming that would be based on research, implementation and tracking outcomes. Craig continues to actively collaborate and meet regularly with the Juvenile Probation Office, Children, Youth & Family Services, as well as many other county initiatives to strengthen our community. Craig is an active member of the Children's Round Table, Blair County Drug & Alcohol Advisory Council, Truancy Task Force Team, Youth Activities Committee, Suicide Prevention Task Force, Youth League, Integrated Family Service Plan Committee, CASSP Advisory Member, Blair County Providers Association, Provider Advisory Committee, System of Care and recently appointed by the Joint State Government Commission as a Truancy Advisory Committee member. As a member of all these important county and state wide initiatives, Craig is not only there to help others around the table, but also to identify what the community's needs are and how our programs will best serve them.
Amanda Kenney, Board Member
Amanda is a news anchor for WTAJ News, the CBS affiliate in Central Pa. She moved to the area with a mission to get involved with the community, and jumped at the opportunity to be a part of Evolution Expressions. Amanda is originally from New Jersey but her career has allowed her to also call New York, Texas, Virginia, and now Pennsylvania home. She studied Broadcast Journalism at Hofstra University with a minor in Political Science, and studied Italian Politics in Venice, Italy. Amanda is an Emmy award-winning journalist that has reported in the communities she's lived in for almost a decade, and now Evolution Expressions is giving her one way help give back.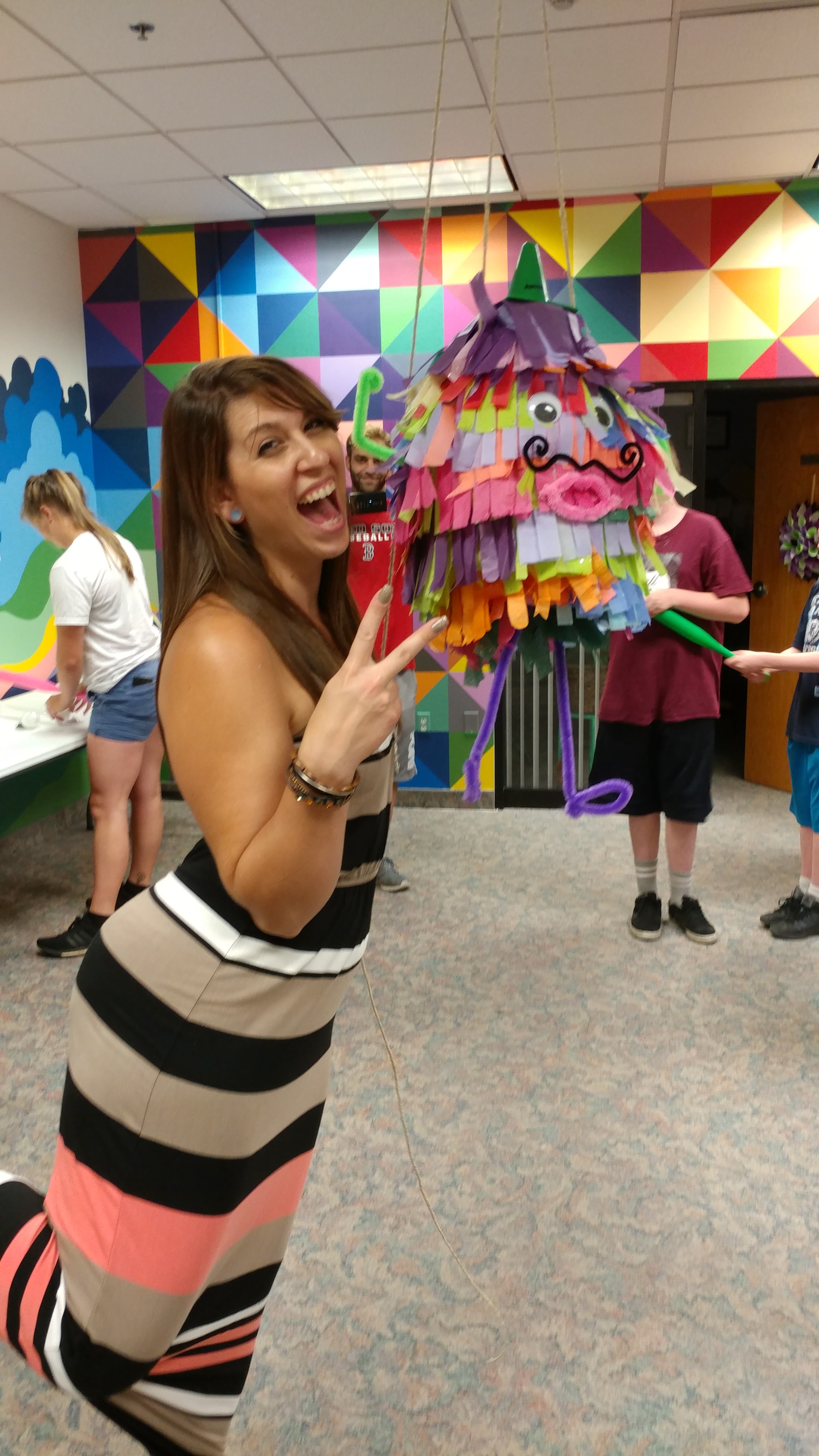 Ashleigh Nearhoof, Board Secretary & Group Facilitator
Ashleigh, Delinquency Prevention Program Director and Counselor, enjoys working with kids and families to achieve their goals for success. Ashleigh was born and raised in Blair County and feels passionate about helping children and families feel supported so they can also be successful in our community. Ashleigh earned her degree at Penn State University in the field of Human Development and Family Studies. Some of Ashleigh's certifications and trainings include Family Development Credentialing, Expressive Arts for Healing, Motivational Interviewing, Childhood Trauma, LGBTQI, Mending the Cracks in the Truancy Pipeline, Recovery is for Everyone, Youth Mental Health First Aid, Recognizing and Reporting Child Abuse and Zumba Fitness. Ashleigh also helps facilitate Kids Arts for Healing groups, Mom's Club/Group, Zumba Group and other organized prosocial community and family events. Ashleigh has found unique ways to help children and families feel empowered and motivated through not only counseling services but also dance, fitness, baking/cooking, arts, travel, exploration, hobbies, skill- building and community engagement.
Donna Gority, Treasurer
Former Blair County Commissioner, Donna D. Gority, served in that office beginning in January 1984, the first woman elected to do so in Blair County history. She continued to serve for 28 years, choosing not to seek reelection in 2011. Prior to her election she had been President of the League of Women Voters of Blair County and of the Penn-Mont Academy, one of the earliest Montessori schools in the country. Commissioner Gority served as President of the County Commissioners Association of PA in 1993. She was known by many across the state for her involvement with human services programs and was appointed by multiple Governors to serve on a variety of state level advisory boards. She has been recognized with numerous awards and honors, including an Honorary Doctorate of Humane Letters from Mount Aloysius College. Donna grew up in upstate New York and graduated from the State University of New York with a BS in Elementary Education. Donna continues to serve her community through service on numerous boards and committees, including ArtsAltoona, Leadership Blair County, WISE Women of Blair County, the United Way of Blair County, CONTACT Altoona, Operation Our Town,Healthy Blair County Coalition, Adelphoi Village, Child Advocates of Blair County, Penn Highlands Community College and the Booker T. Washington Community Revitalization Committee among many others. She and her husband, John, a disabled Vietnam veteran, enjoy spending time with their two adult daughters and their families, including four grandchildren. They own Gority Enterprises and Broadway Sharpening, a small business in Altoona.
Michelle Passarello, Board Member
Michelle is married to Attorney Steven Passarello and they have a son named Dominic. They live in Altoona where Michelle works as a Paralegal in her husband's law firm. Besides her day to day duties running a law firm, she generously donates her time as Chair of the March of Dimes Signature Chef's Auction and is active with the Southern Alleghenies Museum of Art where she is on the Board of Trustees. She is an active member of the Gala Planning Committee as well as the Think Pink Committee, which raises money to aid in the fight against breast cancer. Michelle enjoys helping her community as much as she can. In her free time she likes to spend time with friends and family and travel, especially to Connecticut where her husband hails from. She says she loves being a Board Member for Evolution Expressions because she admires the amazing work that the organization does and loves to see how the group continues to make such positive impacts on kids and families in the community with the work they do.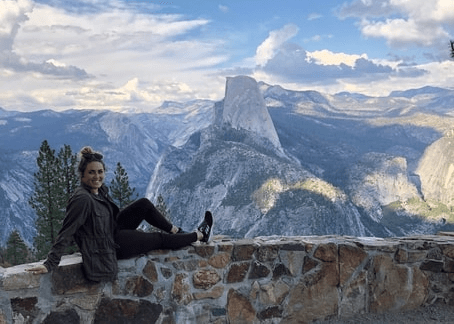 Taylor Clark, Board Member
Taylor, is a 2015 Mount Aloysius College Graduate with a Bachelor of Arts degree in psychology. She has completed specializations in counseling, expressive arts for healing, studio art, and is certified in criminal justice and addictions. Taylor is also a certified NCTI Crossroads and Real Colors facilitator and has received her strength based family worker credential. Taylor enjoys working with children and families and has a passion for using art therapy in her practice. She also enjoys the outdoors and traveling in her spare time. Taylor is a current clinical psychology PhD student with Fielding Graduate University. Here, she pursues research focused on parental incarceration and child exposure to violence topics. Taylor's long term goals include: securing licensure as a clinical psychologist; working to grow and expand Evolution Counseling's scope and reach; and continuing a life of learning, research, and compassion toward others.
Tim Cassidy, Board Member
Tim is on the board for Evolution. He was born in Altoona, PA and then moved to, and graduated from, Hollidaysburg Area High School. Right of out of high school, Tim got a job at New Pig Corporation, in Tipton, where he has been now for 30 years. He started out in the mail center and, within 3 years, moved to Buildings and Grounds, where he has been ever since. Tim has learned a lot over the years while at New Pig. He has shoveled snow, changed light bulbs, and painted rooms. Outside of work, Tim uses these talents (ranging from painting to construction work). When Tim is not working for New Pig, he has many other activities that keep him busy. He has a bartending business where he does receptions and private parties. His primary passion is working with people and helping others. He is the President of the Federation of Clubs Blair County Unit #1, he is on the board of the Ronald McDonald House Charities of Mid Penn and Chair of the annual Golf Tournament, he is a previous President of the Allegheny Club of Hollidaysburg, and does a lot of work for the St. Vincent DePaul Food Pantry. He is also on many Committees and helps at events for Burgie's Low Life Riders, Bikers for Barkers, Giorgio Foundation and many many more. Tim got most of his passion from Momma C, or Beatrice Cassidy, his mother. Beatrice also had a passion to help out the community and give back to others. Tim does all of this, with the loving support of his girlfriend Gretchen Craig and many friends that have always stepped up to help out.

"He who every morning plans the transformation of the day and follows out that plan, carries a thread that will guide him through the maze of the most busy life BUT where no plan is laid, where the disposal of time is surrendered merely to the chance of incidence, chaos will soon reign"